Welcome
To Container Compliance
Container Compliance Dension Detour Until July 2014 -- Click Here for Directions
Plastic Drums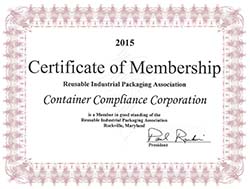 Container Compliance specializes in the reconditioning, pick-up and delivery of new and used plastic drums. We currently sell 15 gallon, 30 gallon and 55 gallon tight head and open head drums in a variety of colors. All of our drums are UN rated and EPA approved. Read more ...
Steel Drums
We also sell new and reconditioned 55-gallon steel drums. Our inventory includes open head and closed head steel drums that have been washed, inspected and steamed at our state-of-the-art 100,000+ sq. ft. facility. Read more ...
Cage And Bottle Totes
We sell 275 gallon and 330 gallon reconditioned and new cage and bottle totes. Our units are UN certified and FDA approved for food use. Read more ...
Used Barrels
Container Compliance recycles used barrels, which can be used as rain barrels. Used barrels made from cleaned food grade drums are a great way to store the rain water that would normally flow down the sewer or into your yard during a storm. We offer rain barrels in the following colors: blue and white or. Read more ...
Disposal And Recycling
In addition to reconditioning drums, Container Compliance is a full service recycling center for industrial packaging. Ask for an on site appraisal today! We can evaluate your site and packaging and make a plan moving forward. Contact us to determine if a pick-up or a trailer spot is right for your company. Read more ...
About Container Compliance
Since 1991, we have been responding to the overwhelming demand for environmental consciousness with our state-of-the-art industrial reconditioning and distribution company, located in Cleveland, Ohio. Our mission is to maximize utilization of all containers, consistently provide our valued customers with the best products and services while remaining environmentally conscious, and to maintain a steady rate of growth and profitability. Read more ...
Our Mission:
Strict Compliance With Regulatory Mandates

Excellence in Products and Service to Ensure Customer Satisfaction

Economical Responsibility For Maximization of Profits

Development of an Empowered Work Force Within the Community

Commitment to a Process of Continuous Improvement